Covered Parking and Pedestrian Drop-off Systems for commercial and multifamily housing projects.


Improve your employee and visitors comfort with Perfection Covered Parking and Drop-off Canopies. At a fraction of the cost of traditional structural parking garages, we have designs to fit any building décor. Our durable 100% extruded aluminum systems provide your patrons with much needed protection from the elements. Available in custom sizes and configurations, let us help you build a system that can solve your covered vehicle requirements. We can customize a design to fit your specific project requirements. Contact a premier design team member to discuss your project today.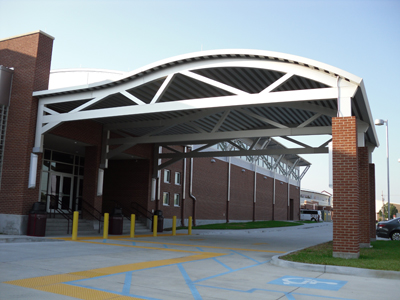 Provide shelter from the storm.

Our carport systems are project specific engineered to withstand high winds, snow and the loads mandated by your local building code.

Perfection Carport & Pedestrian Drop-off Canopy Systems are available in standard and custom finishes. Select your finish based on the project location, finish durability and color selection. Click here to see a list of available finishes for all Perfection Architectural System products.


Experience the Perfection difference. Do business with a company that still believes in customer service and a personal touch. We want to earn your business!